Audience Research: Understanding Your Target Customers in 2023
In today's digital landscape, having a deep understanding of your target audience is more important than ever before for businesses looking to succeed. With so much noise and competition, being able to precisely identify, segment, and engage your ideal customers gives you a major advantage. This is where audience research comes in.
Audience research involves gathering insights into your target customers – their demographics, psychographics, needs, behaviors, and more. It enables you to create detailed buyer personas and tailor your messaging and experiences to resonate with your audience. The more you know about your customers, the better you can serve them.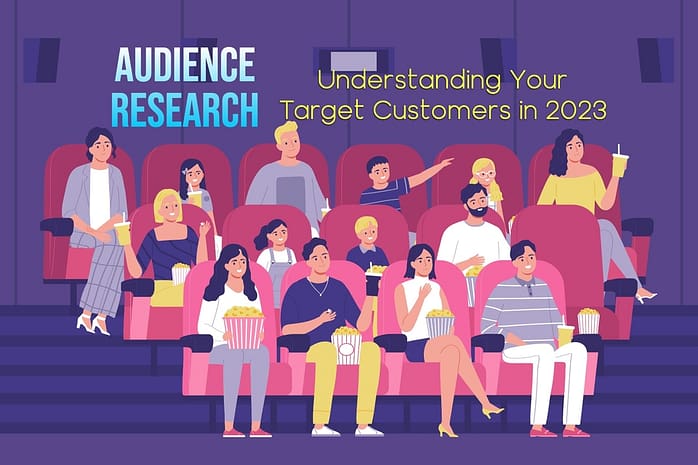 There are several key reasons why audience research should be a priority:
– Refine targeting: With detailed insights into your audience, you can narrow down and specify your targeting to reach the accounts and people that are most likely to convert and become valuable customers. Avoid wasting the budget on broad targeting of irrelevant audiences.
– Personalize experiences: Understanding audience motivations, challenges, and preferences allows you to craft personalized messages and experiences that speak directly to their needs. Personalization boosts engagement and conversion rates.
– Inform strategy: Audience insights help shape effective strategies across all areas of marketing and sales, from content creation to product development. You can develop offerings tailored specifically to your target customers.
– Benchmark and analyze: Detailed audience profiles provide a way to measure and analyze the performance of campaigns and assets. You can identify what resonates most with specific segments.
– Identify new opportunities: Looking at the demographics, firmographics, and interests of your audience can reveal partnership, upsell/cross-sell, and new market opportunities you may have overlooked.
Now that we've covered why audience research is so invaluable, let's explore some of the key techniques and tools you can use to gain insights into your customers:
Conduct Surveys and Interviews
One of the most direct ways to learn about your audience is to simply ask them questions through surveys and interviews. Well-designed surveys and interview scripts can uncover all kinds of insights from demographics to pain points and preferences. Just be sure to keep them concise and offer incentives to boost participation.
Analyze Website Traffic
Your website provides a wealth of audience data. Analyze traffic sources, on-site behavior, and conversion funnels using Google Analytics. See which content and pages resonate most. You can even integrate surveys and polls into your site.
Leverage Intent Data
Intent data reveals the topics and issues your audience has expressed an interest in through their online searches and content consumption. Tools like Google Trends, BuzzSumo, and SEMrush's Keyword Magic Tool leverage intent data to uncover your audience's needs and interests.
Customer Listening
Actively listening and analyzing discussions your audience is having on social media, review sites, forums, and Q&A sites provides all kinds of useful insights. Social listening tools like Mention and Awario make this easy.
Persona Development
Bring all your research together to build detailed buyer personas that represent your core customer segments. Personas include demographics, behaviors, motivations, and quotes based on real data. They help humanize your audience and focus your strategy.
ABM Audience Insights
For B2B companies adopting an account-based marketing approach, getting audience insights at the account and contact level is vital. Let's look at how two leading ABM software platforms, Demandbase and 6sense, can power audience research through integration with your CRM platform.
Demandbase
Demandbase offers robust B2B audience identification and analytics. By integrating with your CRM, Demandbase automatically segments and scores existing and net-new accounts based on firmographic fit, intent signals, and engagement. You gain a prioritized list of accounts to target along with actionable insights into their research behavior.
Key features include:
– Account identification – Discover net-new accounts that match your ideal customer profile across 300M+ companies.
– Account scoring – Intelligent scoring models rank and prioritize accounts based on fit, intent, and engagement.
– Buyer intelligence – See real-time alerts when target accounts visit your site or consume specific content.
– Analytics – Track account engagement across channels and benchmark against industry peers.
With these insights, you can create highly-targeted, sequenced ABM campaigns in your CRM to boost engagement and pipeline. Demandbase makes ABM audience research simple and actionable.
6sense
6sense takes a predictive approach to identifying and engaging accounts. Using AI and big data, 6sense analyzes billions of anonymous buying signals to predict which accounts are in-market and ready to buy which products. These actionable insights help you focus sales and marketing on qualified accounts.
Key capabilities include:
– Predictive analytics – AI models analyze intent, search, and buying signals to predict sales opportunities and recommend target accounts.
– Ideal customer profiling – Build ideal customer profiles based on firmographics, technographics, and buying signals to identify your total addressable market.
– Contact insights – Get insights into contacts at target accounts to inform personalized outreach and sequencing.
– Campaign analytics – Track account engagement with campaigns and assets to optimize your approach.
By revealing which accounts are researching and in-market to buy, 6sense powers highly accurate ABM audience targeting and orchestration within your CRM.
Conclusion
Taking the time to thoroughly research and understand your target audience provides tremendous value across all aspects of marketing, sales, and product development. From surveys and interviews to website analytics, intent data, and customer listening, there are countless effective techniques to gain audience insights. For B2B organizations, ABM-focused solutions like Demandbase and 6sense take audience research to the next level. Audiences have never been more empowered – success requires truly knowing them. Leverage these tips and tools to boost your audience intelligence today.
https://mlfdlf3s4fyu.i.optimole.com/cb:h8xx~643af/w:auto/h:auto/q:mauto/ig:avif/f:best/https://www.inforseo.com/wp-content/uploads/2023/09/Understanding-Your-Target-Customers-in-2023.jpg
1280
1920
admin
https://www.inforseo.com/wp-content/uploads/2013/04/cropped-logo-web-enfold1.png
admin
2023-09-20 17:51:44
2023-09-20 17:51:49
Audience Research: Understanding Your Target Customers in 2023